Achieving success by offering our customers' the best-in-class products like Pink Rock Salt, Gypsum Board, Himalaya White Rock Salt, Talcum Powder, etc.
About Us
Each and every business is established with the vision of the earning profits. And, our Mumbai, India based business, Golden Bricks Infrastructure Private Limited is no different. However, we differ from others in our way of work. Our work culture is the reason because of which we have established a strong foothold not only in the National market, but International. Performing all the tasks in a systematic way helps us win numerous hearts. Moreover, by sourcing wide variety of products like White Wall Cement, Pink Rock Salt, 135 Mesh White Rock Salt, Bitumen, Gypsum Powder, etc., and supplying these at unbeatable prices to our customers; we have established a large customer base across the world. This is being the reason; we are recognized as a reliable wholesaler and trader in this competitive domain. Apart from this, the efforts of our employees always help us in moving up the ladders of our success.
Why Us?
We have growing steadily and continuously due to the following reasons-
Wide array of products- since we source all our products from our vendors, so we have associated with different businesses to get access to different product range like Himalayan Rock Salt Lumps, Gypsum Board, etc.
Transparent business policies- All the policies related to the customers' orders are carefully documented and shown to them because we never hide anything from them.
On time delivery- Our fastest transportation mode ensures quick product delivery.
Sales- Supported by our Marketing Manager, Mr. Kishori; we follow modern marketing techniques and have enhanced our sales at International level.
Our Vendor Base
In today's competitive world, maintaining sound relations with vendors has become a necessity; especially for the trading businesses. Considering this, we put all our efforts in tying strong knots with highly reputed business entities of this business line so that we can have access to the quality approved products like White Portland Cement, Persian Rock Salt, etc. Since our business is entirely dependent upon our vendors, we have recruited a team of products procurers that visit the vendors' sites and thoroughly check their product sample quality, production techniques, quality standards, credibility and more, for ensuring that these are right vendors to associate with.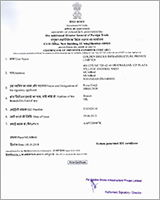 Get in touch with us